Keep Protected From The Sun All Year Round
Taskers have recently been appointed as the WA representative for the Flexshade range of modular engineered structures.
Manufactured in Australia, Flexshade has the most comprehensive range of engineered shade solutions available on the market. Incorporating solid steel structures with waterproof PVC canopies. The range includes centre posts and cantilevered umbrellas, in both square and hexagonal designs available in a vast range of sizes. Many of the umbrellas can also be linked together to provide continuous protection from the sun and rain.
Square Umbrellas
Quartet Square Umbrellas are our most popular and versatile model, each umbrella can be linked together to form larger spans with waterproof infill panels and are available in a cantilever and duet style.
Cantilever Umbrellas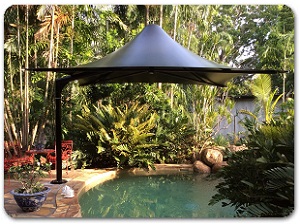 Cantilever Umbrellas for maximum dining or lounging space. These are available in both the Flexshade Square and Hexagonal Modules.
Hexagonal Umbrellas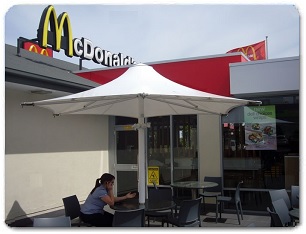 Hexagonal Umbrellas are ideal for commercial or domestic applications, their eye catching design enhances any space as a standalone umbrella or hexagonal cluster layouts such as in a cafe sidewalks or a resort pools environments.
Why Choose a Taskers Umbrellas
☂ Engineered Non Retractable Design – Certified N.P.
☂ Structural Steel Support Struts – no wires
☂ Fully Welded Acrylic or Tedlar PVC/Polyester Membranes
☂ Steel Frames – Hot Zinc Galvanised & Powder Coated
☂ Stainless Cables & Fittings -Marine Grade
☂ Wind Rated up to 160km/hr – 100mph
☂ Structural Warranty 10 Years
What Our Clients Say
With a commitment to providing our clients with a quality product backed by exceptional workmanship and customer service you won't be disappointed with Taskers.
We have had a Taskers shade sail since December 2013 and it is fantastic. Not only does it look fabulous and give us so much more usable space in our backyard, the UV protection it provides means or little boy has had so much fun outside ..

Call 9437 9222 today
 10 Blamey Place O'Connor WA 6163
accounts@taskers.com.au
Or simply fill in the easy form below and one of our friendly team members will get back to you as soon as possible.